Keto Sushi Roll
If you're a sushi fan and have gone keto, your options are pretty much limited to sashimi. All good for the sushi aficionados out there, but what if you're craving some good ol' fashioned maki-zushi? Introducing @eatfatbeatfat's very own cauli-fornia rolls - we toiled in the kitchen to get our cauliflower rice just right for classic inside-out sushi rolls! Enjoy.

2 cups riced cauliflower
1/4 tsp ginger (ground)
1/8 tsp salt
1/2 tsp sesame seed oil
1 1/2 tsp tahini (ground sesame seed)
nori (seaweed sheets)
crab (90g) Note: Use real crab meat, imitation crab contains some carb fillers.
1/4 cucumber (julienned)
1/2 avocado
sesame or chia seeds (optional garnish)
Recipe yields 2 california rolls (8pcs each)
Rice two cups of cauliflower, about a quarter of a large head, in a food processor. Grab a saucepan, add the cauliflower, ginger, salt, sesame seed oil and tahini. Sautée over medium heat while stirring for about 8-10 minutes. You want the cauliflower to cook a bit and become sticky, but not get too mushy. Remove from heat and refrigerate until cool.
Take one sheet of nori and split in half. Lay down the nori on a sushi mat, with the shiny side down. Spoon about a cup of the riced cauli onto the nori, and gently spread evenly across the sheet. Try not to push the 'rice', but roll it with your fingers, this will prevent tearing the nori. Carefully yet swiftly, flip the sheet so that the 'rice' is face down. Gently press down across the sheet for good measure.
Next, place your crab across the middle of the sheet. We used 'imitation' crab sticks in our video which are readily available and convenient, however do contain some carb fillers. Use real crab meat to keep carbs to a minimum (note the macro panel above was calculated with real crab meat, the equivalent macros for imitation crab comes out to approx. 8g of carbs). Continue with the cucumber and avocado - placing the avocado on the near side. Placing soft filling on the near side prevents squishing when rolling.
Now, get your roll on. Lift the rolling mat while carefully tucking the filling in with your fingers. Roll the mat over top and squeeze. Lift the end of the mat, bring forward and complete the roll. You'll get the hang of it, keto friend. If you're feeling fancy, sprinkle with toasted sesame or chia seeds.
Once rolled, take a sharp wet knife and cut down the middle. Line up the halves one over the other, and cut into quarters.
Domo Arigato, cauliflower - we owe you one.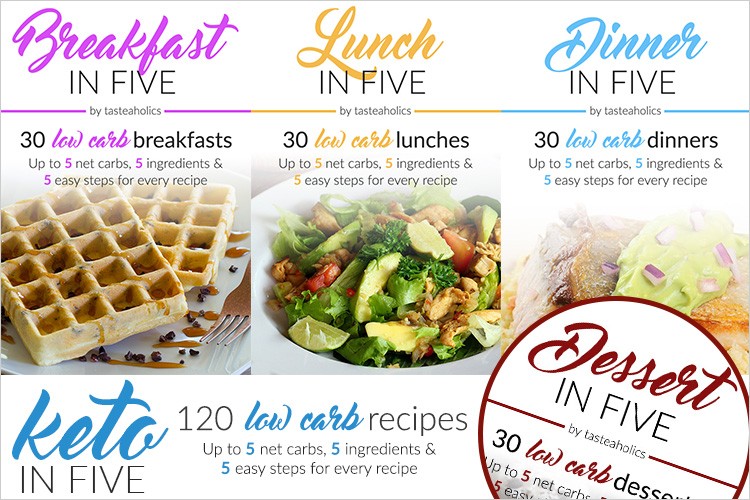 Mark